Si tú conoces el orgullo de compartir tus conocimientos y ser parte de la formación de personas.
Ya sea que estés a punto de dar tus primeros pasos en el mundo de la enseñanza del inglés, o que seas un profesor experimentado que busca crecer profesional y económicamente, nosotros te ayudamos a cubrir tus necesidades de capacitación y certificación.
The Anglo Centre for Professional Development and Assessment pone a tu disposición todos sus servicios.
Amplía tus habilidades, profundiza tus conocimientos, conoce mejor a tus estudiantes y obtén la certificación que requieres para abrirte puertas en tu carrera como educador.
Development Pathways for English Language Teaching Professionals
Cambridge teaching qualifications and The Anglo training courses: from Foundation to Expert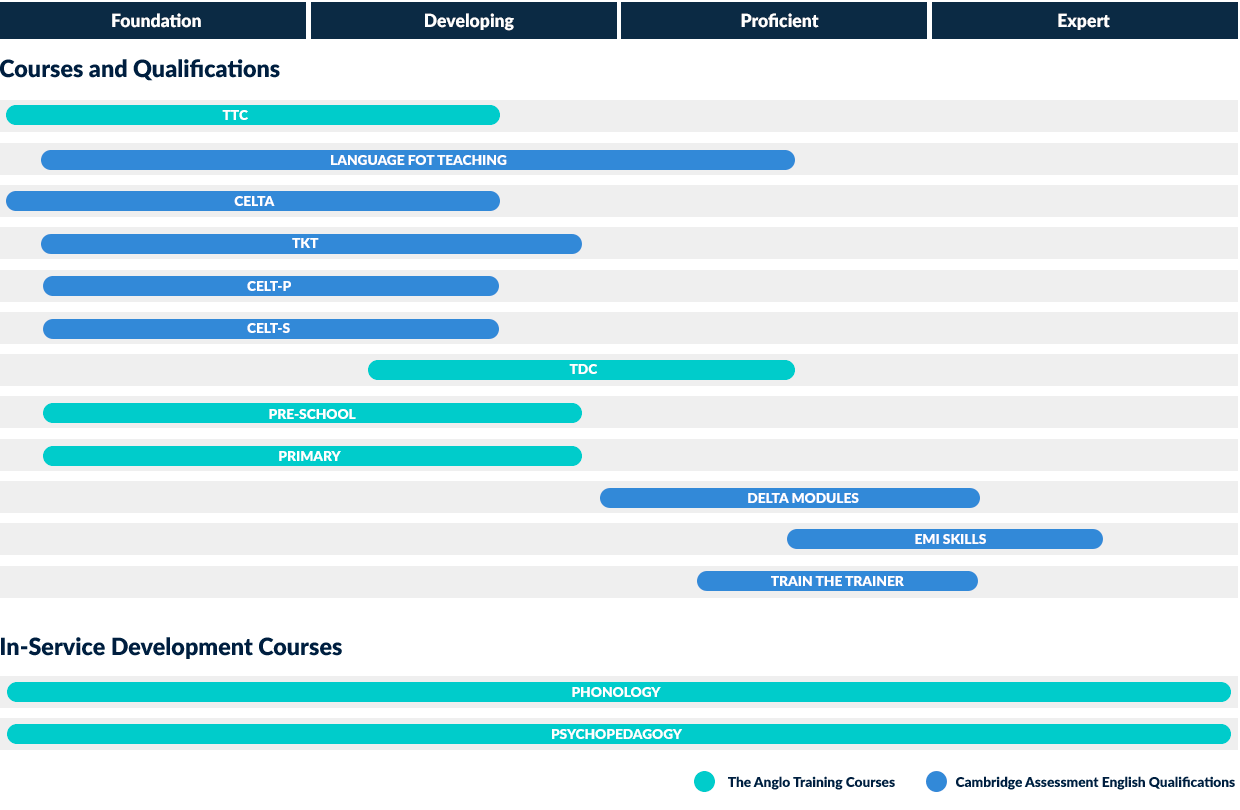 Llámanos y sorpréndete de las oportunidades que te esperan.
Capacitación inicial
Un mundo más amplio espera que lo descubras.
Sienta las bases para entrar de lleno a la aventura de la enseñanza.
Fortalece tus habilidades docentes y lleva tu carrera a nuevos niveles.
Cursos en desarrollo
Experimenta el orgullo de ser un profesor altamente capacitado.
Amplía tu conocimiento y tu técnica aprendiendo de los expertos.
Te esperamos para que crezcas con nosotros.
Cursos especializados
Un buen maestro sigue creciendo siempre.
Amplía tus conocimientos en áreas especiales y fortalece tu currículo.
Prepárate para sobre salir en el mundo de la enseñanza.
Cursos de Posgrado
Descubre nuevas maneras de inspirar a tus alumnos.
Profundiza tus conocimientos y certifícate a nivel internacional. Somos la institución líder en México para la enseñanza y certificación de inglés.
¿Por qué impulsar tu carrera docente en The Anglo?
Nosotros, como tú, sentimos pasión y orgullo por la enseñanza.
Somos especialistas en la formación, capacitación y certificación de profesores, brindándote los mejores servicios para que puedas seguir creciendo, compartiendo tu conocimiento y buscando mejores oportunidades profesionales haciendo lo que más te gusta.
Consulta disponibilidad de horarios fechas y sedes.